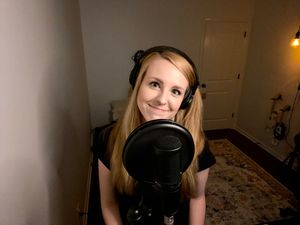 Golden Forever is ALMOST done! 
I almost can't believe it! A few nights ago, I finished recording the FINAL vocal tracks for Golden Forever! This new single has been so fun to write and record. I can't wait for you all to hear it. 
Behind the Scenes 
The above photo shows me, about to record. We ended up rearranging our whole studio to make it a giant vocal booth. There are still some blankets and cushions hanging around the room! I cranked out countless hours several nights in a row after our kiddos were asleep. Whew! It was SO worth the work! :)
The almost-finished mix is sounding SO good! I'm getting desperate to share it, but I'm trying to maintain a little mystery until release day :) Hopefully we will be able to announce the release date in the next week or so!
Join the Exclusive Community
If you liked this update, I'd like to invite you to join my exclusive email community! Not only do I send these kinds of updates (with even MORE juicy details you won't find anywhere else!), but you'll also get a free song when you join! Just click here to sign up!