Today is the last chance to pre-save Golden Forever and ensure you're one of the first to hear it!! :) Just click here to pre-save. And thank you so much. Your support truly means the world to me.
I thought it would be fun to share the replay of last Friday's livestream here for you!
And don't forget I'm going LIVE tomorrow night at 8:30 PM EST (on both Facebook and Instagram). And YOU'RE INVITED! I'm so excited to celebrate the release of Golden Forever with you. I can't wait to share my heart for the song and hear what everyone thinks of it!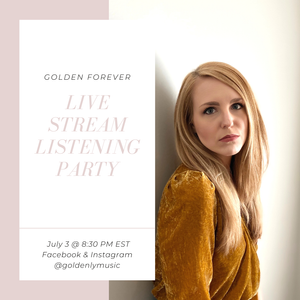 Click here to follow my Facebook page and turn on notifications so you don't miss the livestream!
Click here to follow my Instagram page. You can turn on notifications for live streams there, as well! :)
Thanks again, for everything. I am absolutely overwhelmed with gratitude and excitement!! :)