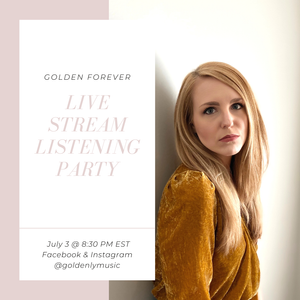 You're Invited! 
I'm going LIVE on Facebook and Instagram THIS FRIDAY at 8:30 PM EST for a LIVE LISTENING PARTY! All to celebrate the release of Golden Forever. 
I'll be performing the song live, sharing my heart behind the lyrics, taking questions, and sharing the fully-produced track. I absolutely cannot wait! You have been such an important part of this and I'd love to hang out with you during the livestream.
If you have questions you want to make sure I answer, post them in the comments below!
Even though Golden Forever releases on Friday, there's still time to pre-save! Just head to this link and follow the prompts: https://show.co/bZfTgto
Oh, and here's a little video from last week's live stream where I played an acoustic version of Golden Forever! :)
Hope you're enjoying your week. Stay golden! :)